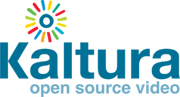 Kaltura
provides the world's first Open Source Online Video Platform. Founded in 2006, Kaltura's open source code is available as a free Software Development Kit and as downloadable packages for leading platforms, including content management (Drupal), blogging (WordPress), collaboration (MediaWiki), enterprise (MindTouch), and education (Moodle). The company has been recognized with numerous awards for its open source platform and was recently named one of 10 "
Innovative Applications Companies to Watch
" by IDC. Kaltura is also a founding member of the 'Open Video Alliance' (
www.openvideoalliance.org
), a coalition of organizations dedicated to fostering open infrastructure, tools, and standards for online video.
Forrester Sr. Analyst Bobby Tulsiani noted:
"Kaltura offers a highly differentiated video platform option, which allows organizations to fully own the open source code at no charge. The company also impresses with pioneering user-generated video that allows viewers to remix video clips. Additionally, the open community at Kaltura.org provides a great resource for innovation and sharing in development. As a newer entrant to the market, Kaltura has started with a solid entry; if it can buttress its monetization and reporting capabilities, it will certainly compete with the market leaders."
Kaltura is also a Platinum Sponsor of the
Online Video Platform Summit
and has planned a number of activities at this year's event. CEO and Chairman
Ron Yekutiel
will be speaking on the opening panel session
Defining Online Video Platforms
, Wednesday, November 18th at 10:30 AM and presenting Kaltura's features and capabilities in the
Online Video Platform Showcase
, also on November 18th at 11:45 PM. Kaltura will be sponsoring a magical lunch following the showcase -
The Magic of Open Source Video!
with Supernatural Entertainer, Haim Goldenberg.
Make sure to come to the Reader's Choice Awards Ceremony, San Jose Marriott at the San Jose Marriott, Wednesday, November 18 from 7:30 p.m. – 9:30 p.m. After the ceremony, mix it up—or rather REmix it up—at Kaltura's rocking party: open bar, video remixing legends Eclectic Method, networking, and dancing galore. See Kaltura on the exhibit floor in Booth 513.
In this short video, Ron Yekutiel offers his elevator pitch for the Online Video Platform Summit.
Ron added the following about this first-ever industry event:
"This really is such a timely event - today it is hard to find a site on the web that does not have online video. With more than 38,000 publishers using Kaltura's platform and hundreds joining every week, we are seeing huge demand for flexible, interactive and affordable video solutions. You are invited to take part in all of the great activities that Kaltura will participating in and supporting at the Summit, including presentations of our unique open source video management platform, lunch and a magician show, and a funky remixing party after the Reader's Choice Awards. You won't want to miss it."
Look for my CEO Conversations interview with Ron here on this blog in the next week.
About Kaltura
With more than 35,000 active publishers including top corporations and brands, award-winning Kaltura allows any site to publish, syndicate, monetize and analyze online video and rich-media content. Beyond catering directly to web publishers, Kaltura's open framework provides integrators and developers the ability to create custom video applications with minimal time and effort. The Platform also includes unique collaborative and interactive features that increase user engagement and time spent on site. Kaltura's open source code is available as a free Software Development Kit and as downloadable packages for leading platforms – such as Drupal, WordPress, MindTouch, Moodle and MediaWiki. Kaltura also provides supplementary paid services including maintenance, support, integration, professional development, streaming and hosting, ad serving, content syndication, and aggregation of related third party services.
Since its public launch, New York-based Kaltura has won numerous awards, such as Microsoft and TheMarker's 'Most Promising Start-up in Israel' for 2009, TechCrunch40 People's Choice award, Mashable's 'Open Web' award, AlwaysOn's top 250 global company and top 100 media company awards, and TV Week's 5 Video Startups to Watch in 2009. For more information, visit www.kaltura.com and www.kaltura.org.
Related: