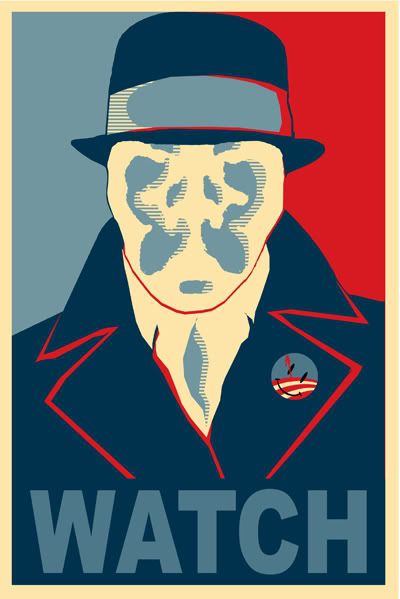 Did
"Watchmen"
flop at the box office? While it topped the charts the first weekend with the biggest debut of the year at an estimated $55.7M over the Friday-to-Sunday -- the box office shares dropping 67% to $18M on the second weekend. With all the viral marketing and hype behind the movie that's certainly not what Warner Brothers had in mind.
According to
Variety
:
"Overseas, "Watchmen" fell 50% to an estimated $13.5 million for a foreign cume of $49.5 million. Pic's worldwide total of $135.5 million in 10 days eases concerns that it will be a pricey financial loser for Warners, Legendary Pictures and Paramount (Par is distributing overseas). Pic cost north of $200 million to produce and market.
This drop falls within the norm for big and highly anticipated movies," Warners exec VP of domestic distribution Jeff Goldstein said. Pointing to several examples, Goldstein noted that "The Incredible Hulk" fell 60% in its second weekend after opening to $55.4 million. That film cumed $134.8 million domestically. "Sex and the City" fell 63% in its second frame on its way to cuming north of $150 million domestically."

Even still, most critics are writing it off as a box office flop.
Nikki Finke called it "a bomb financially" pointing out
that no matter what the box office gross is Warner Brother still has to split that with Paramount, Legendary Pictures and 20th Century Fox. Was it all the negative press? Was the 162 minute adaptation too faithful to the graphic novel? Was it Dr. Manhattan's blue genitals? Or didn't enough fanboys and fangirls
heed the call from from Watchmen screenwriter Dave Hayter
to go see the movie again on the second weekend?
In his open letter to fans Hayter said,
"You have to understand, everyone is watching to see how the film will do in its second week. If you care about movies that have a brain, or balls, (and this film's got both, literally), or true adaptations -- And if you're thinking of seeing it again anyway, please go back this weekend, Friday or Saturday night. Demonstrate the power of the fans, because it'll help let the people who pay for these movies know what we'd like to see. Because if it drops off the radar after the first weekend, they will never allow a film like this to be made again."
While I didn't go see the movie again last weekend I have plans to see it again at an Imax screening if it remains in the theaters. I think the film has been successful and will be profitable in the end with DVD and Blu-ray sales but will probably be dismissed as a box office disaster by the critics. Who Watches the Watchmen? According to
Newsarama
, apparently only comic book fans.
However,
according to Wired
,
"until potential blockbusters
Terminator Salvation
,
Star Trek
and
X-Men Origins: Wolverine
arrive in May,
Watchmen
has few rivals on the horizon. It seems likely that Alan Moore and Dave Gibbons' canonical comic will survive its evolution to the big screen just fine, thanks."
In addition, a limited-run theatrical release of
director's cut in July
has already been announced and that could help boost the box office bottom line.
Funny or Die
has a video that may come back to haunt the Watchmen actors if studio execs actually considered this as a way to recoup production costs. "What do you do if you live with the actress who plays Silk Spectre? Charge nerds hundreds of dollars to watch her sleep."
Related: