This second weekly review highlights more of the news from this past week related to online video, streaming, content delivery and industry shakers and movers.
March 16, 2009
Voodoo Chile: Pandora lands on Vudu set-top box | last100
VUDU soon to add PC-streaming feature : Boy Genius Report
Jimmy Fallon speaks geek on 'Late Night' - Los Angeles Times
Trial and Error - Jimmy Fallon = 4,000 New Twitter Followers - TVWeek - Blogs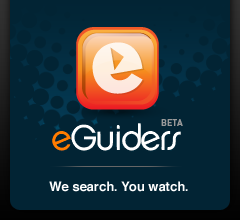 eGuiders > Whats-really-going-on-with-hollywoods-fight-over-new-media-money
AnySource Raises $3.2M for Web Vid on TV
Hearst Assembles Digital Posse
Hearst today
named
George Kliavkoff executive VP and deputy group head of its entertainment and syndication division.
Cisco Preens on TelePresence - Bits Blog - NYTimes.com
- Someone call the folks at Guinness World Records. Cisco Systems may have broken the record for simultaneous video conferences. On Monday, Cisco held a video conference for the ages as it announced a
new server
product in 14 different locations around the globe. John Chambers, Cisco's chief executive, directed the affair from the company's headquarters in San Jose, Calif., while other people tuned in from San Francisco, Boston, London and elsewhere. Cisco hoped the virtual gig would showcase both the powers of its new servers and its TelePresence video conferencing technology, but it seemed like the company may have left cynical reporters with an unintended impression.
March 17, 2009
Detailing Netflix's Streaming Costs: Average Movie Costs Five Cents To Deliver | The Business Of Online Video
While Netflix is not yet giving out a lot of details on their costs associated with their streaming video service, they have given out enough data for us to have a pretty good idea of their costs when it comes to their streaming delivery costs for the XBOX 360 and other devices. Here's what we do and don't know and how it all breaks down.
We know that the average encoding rate for video streamed to the XBOX 360 is about 2000Kbps. That means one person watching a two hour movie would transfer roughly 1.8GB of data. For high definition movies, the average encoding bitrate is around 3200Kbps and one user would transfer about 3GB of data. Based on the high volume of movies Netlfix is doing each month, they are getting a very good rate in the market. I estimate they are paying on average about $0.03 per GB delivered across Limelight and Level 3 and potentially have even a slightly lower rate.
Based on the three cents per GB assumption, that means it would cost Netflix about $0.06 to deliver one SD movie and $0.09 to deliver one HD movie. Those numbers would be about 25% lower if the length of the movie were ninety minutes instead of two hours. It would also be a little lower or higher depending on the exact bitrate since some movies are streamed higher and some lower and Netflix only has about 400 movies available in HD. Taking all that into consideration the average cost to Netflix to stream to the XBOX 360 is about five cents per movie. Streaming to the PC is a lot cheaper, about half that cost, as the bitrates are much lower. (more...)

Will Video for Food » The Hidden Layer of Online-Video
IMDB and You, the Filmmaker
- What IMDB, and sister sites Amazon and Without A Box have planned for filmmakers
IMDb: one-button streaming for all films | News | TechRadar UK
March 18, 2009
Contentinople - Sam Baltrusis - Seth MacFarlane Joins Hulu's 'Evil Plot'
YouTube Hits 100 Million - eMarketer
- But is it invincible?
March 19, 2009
Cisco Announces Intent to Acquire Pure Digital Technologies, Makers of Flip VideoTM -> News@Cisco
MediaPost Publications Panel: Mobile TV Execs Embrace Hybrid Revenue Model 03/20/2009
If big media companies have their way, business models for mobile media will look a lot more like those for broadcast and cable TV than the information-wants-to-be-free world of the Web. That was the prevailing--if unsurprising--view among a panel of mobile executives gathered at the Media Summit New York Thursday to discuss the "The Mobile Platform 2.0: Establishing the Personalized Video, Music, and Communications Experience."
MediaPost Publications Streamed Video Advertising OK, But Expected To Be Free 03/19/2009
Since 2006 monitoring the digital video landscape, the Ipsos MediaCT's MOTION syndicated program currently provides data on a number of ways consumers can access their preferred video entertainment, with the aim of understanding the impact streaming and downloading has had on traditional viewing option
Contentinople - Ryan Lawler - Dauman: Consumers Not Cutting the Cord
NEW YORK -- Media Summit -CEO Phillippe Dauman says his company is not seeing lower subscription rates for paid TV, despite reports of consumers foregoing cable services for broadband video. At a keynote interview with
Businessweek
L.A. Bureau Chief Ron Grover last night, Dauman called cord cutting a "pretty dramatic step" that "very few people" would do. "We're not seeing it. We know what the subscriber base is out there, because we receive affiliate fees based on subscribers. And the subscriber base is growing," Dauman said, when Grover asked about the possibility that Viacom's business could be impacted by fewer paid-TV subscribers.
Flypaper.tv » Blog Archive » Media Summit: Monetizing Online Video
Results of ethnographic and quantitative studies on how consumers react to online video showed that consumer experience is at the very core of monetization. Ms. Shatto isolated four trends to consider:
PUT IT ONLINE: "We found that people know there is a lot of video online out there, and their expectation is that everything that's on broadcast is online. This is not the case, so the implication is that if you are making content for broadcast, start thinking about how to work through the rights of being able to carry that video content from the large screen to the small screen."
MAKE IT A SEAMLESS EXPERIENCE: "Decidedly a US phenomena, consumers looooove their big TV sets and looove watching television from the couch with a bag of cheetos. The experience is different when watching on a small screen; cuddling up to laptop in bed is not the same. So we need to work on making the experience more pleasurable, more like the 'big TV experience' they know and love."
MAKE IT EASY TO FIND: Search and discovery is still a big problem. "Consumers can't find what they are looking for. " To this point Federico Grosso nodded in approval, as this is precisely the area of expertise of Blinkx, the leader of online video search and experience.
DON'T OVERKILL WITH ADS, & MAKE THEM CREATIVE "Consumers complain about seeing the same ad repeated over and over within the same viewing session. There is more personal effort in watching a show online, therefore, if they see a bad ad (or one that has no "delight", or not as creative) then its doubly as bothersome. An ad is far more irritating online if it is bad, just as it is far more pleasurable online if it is good". This phenomenon can be attributed to the intimate nature of the online experience.
March 20, 2009
Is Cisco really going to take on Apple? Not quite. | Between the Lines | ZDNet.com
Web Video Cannot Succeed Until TV-Style Advertising Revenue Arrives | Money Is Key
Money is key. It's a shame that is the case but true nevertheless. And this adage is having a direct influence on the online video sector - from why YouTube is constantly engaged in battle with copyright holders to why Hulu no longer supports Boxee.
If You Hate the Twitter Fad… | Online Video Watch