Aside from the inauguration last week there was considerable news about growth opportunities for online video, social media applications and streaming media. Here's a sample of links from the blogs.
January 20, 2009
Gimme5 on IMEEM
(featuring Zadi Diaz)
Is your site suffering from a "video ghetto?" - ReelSEO
Inauguration Day: Live Video and Essential Social Media Reading
The Broadband Inauguration and Beyond
FriendFeed on iPhone: Comparing the Options
Adap.tv and EyeWonder Partner
Adap.tv and EyeWonder Join Forces to Seamlessly Connect High Quality Brand Advertisers With Prominent Online Video Publishers - MSNBC Wire Services - msnbc.com
Video CDN Pricing Stable in Q4 | Streaming Media Europe Blog
Online Video Advertising: State Of The Internet Marketing Industry Full Report Q4 2008 - Robin Good's Latest News


January 21, 2009


Online Video Apps Revenue Reach $494 Million | WebProNews
nline video applications, platforms, advertising networks and related services generated $494 million in revenue in 2008, up 86 percent over 2007, according to a new report from
AccuStream iMedia Research
. Value added service providers (VASP), video content management systems (CMS) and ad network revenues combined are forecast to increase 41 percent in 2009 and 38 percent in 2010.
The top four VASPs are in-banner video advertising platforms including Eyewonder, Eyeblaster, Pointroll and DoubleClick, and as a category generated about $225 million in net revenue in 2008. The remaining top ten VASPs had a combined revenue estimated at $194 million, and included Brightcove, Tremor Media, BBE, Worldnow, the Platform and Internet Broadcasting. Video services including transcoding, custom player design and widgets are predicted to grow from 8.5 percent share in 2008 to 10.7 percent in 2010. Video indexing and metadata support is estimated to grow from 3.9 percent share in 2008 to 9.3 percent. "VASPs are selling an ROI model in 2009, which plays well in a tight economy by focusing on ways to save clients money," said research director Paul A. Palumbo.
Instant infomercials: TurnHere makes millions from video ads - Jan. 21, 2009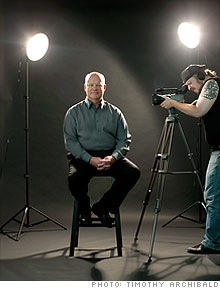 Web media startup TurnHere churns out 1,000 corporate videos every month. That might just be the future of Web advertising.
EMERYVILLE, CALIF. (Fortune Small Business) -- Antoine's Restaurant in New Orleans had never been the subject of a TV commercial, let alone an Internet ad. The 168-year-old business, where third-generation waiters serve gumbo and other Creole delicacies to third-generation customers, had only ever advertised in print and on radio. So last June, the owners decided to drag the restaurant into the 21st century with an ad on YellowPages.com, complete with a promotional video.
That was good news for Brad Inman, owner and founder of the online video production company TurnHere. Based in Emeryville, Calif., TurnHere is fast becoming the first choice for local businesses around the country that want to show off their wares in a quick online movie, but have no idea how to make it look professional. Analysts say spending in this niche is set to explode. By producing videos as fast as it can, TurnHere is already cashing in...
Exclusive: YouTube Will Soon Let Big Content Partners Bring Their Own Ads
Big media companies have always had a love-hate relationship with YouTube. They don't know whether to sue YouTube for abetting copyright infringement or get in bed with it because it is the biggest Web video game in town. YouTube is trying to convince them that love is better than war by giving them a cut of advertising revenues from their videos that appear on YouTube, regardless of who put them there.

Fake Viral Videos: Is This Good Marketing? - ReadWriteWeb
A pretty blonde woman nervously stares at the camera and begins speaking. "I'm not a stalker, I'm not crazy," she says. She then earnestly tells a story about meeting a guy in a cafe and chatting him up before he took off - leaving his jacket behind. She then apparently decided to use YouTube to help her track down her modern-day Prince Charming. A heartwarming story? Sure. Except for one problem: it was all a hoax.


gary vaynerchuk » Stop crying, think, wipe your tear and crush it! - my 2 minute take on life
Major Media Companies Now Allowed to Sell Video Ads on Youtube - ReelSEO

MediaPost Publications - Businesses Embracing Online Video Will Fuel The Web's Revolution - 01/21/2009
If video killed the radio star, online video will surely kill the static Web. Video is poised to permeate the Web in a way that goes far beyond YouTube's user-generated clips. The Web's design and flexibility make it a powerful visual medium, with moving images, Flash and animation fast becoming the lingua franca. This presents corporate America -- and private enterprise in general -- with a huge opportunity.

Inauguration Day, by the numbers — Updated at 2:53 p.m. PST … (Caroline McCarthy/The Social)
The Day Live Web Video Streaming Failed Us
Yesterday was supposed to be the day that live Web video streaming took on TV broadcasting. CNN.com alone served a record 21.3 million streams, with a peak of 1.3 million simultaneous streams. And Akamai reported a peak of 5.4 million simultaneous visitors per minute
to the various news sites for which it hosts video, and more than 7 million
simultaneous streams.
Change has come to WhiteHouse.gov
Welcome to the new WhiteHouse.gov. I'm Macon Phillips, the Director of New Media for the White House and one of the people who will be contributing to the blog. — A short time ago, Barack Obama was sworn in as the 44th president of the United States …
Discussion:
paidContent.org
,
O'Reilly Radar
,
Associated Press
,
Guardian
,
PC World
,
Twist Image
,
Digits
,
Webware.com
,
Epicenter
,
Ars Technica
,
TECH.BLORGE.com
,
Increasing your Website's …
,
One By One Media
,
Telegraph
,
Techcraver.com
,
p2pnet
,
Todd Watson
,
The Social Times
,
Rex Hammock's RexBlog.com
,
Alice Hill's Real Tech News
and
TechCrunch
Economic Crisis Will Make Online Video A Champion in 2009 - ReelSEO
Yankee Group today unveiled U.S. survey results that suggest the current economic crisis will make Internet video a champion in 2009. Consumers are spending 11 percent more time online than watching TV, and Internet video is emerging as the key platform for the delivery of on-demand video services. Yankee Group analysts advise that media companies should focus on the Internet as a primary opportunity in 2009. The emergence of the Anywhere Consumer™—Yankee Group's vision for an individual able to connect to content, society and commerce at any time from anywhere—will herald an important shift in how entertainment is delivered and monetized.
Other findings from the recently published Yankee Group Anywhere Consumer: 2008 U.S. Entertainment Survey:
56 percent of television viewers are online at the same time, browsing the Web or sending e-mail
82 percent of Internet video viewers watch TV shows online because they missed the episode on TV
Digital video recorder (DVR) owners are more likely to watch online than they are to record a program in advance
25 percent of the Internet video audience watches online programming on-demand either once or several times per day
Yankee Group | The Global Connectivity Experts | Research, Data and Consulting
Ustream's iPhone Viewing Application Downloaded 113,000 Times in 24 Hours
Nine (questionable) reasons why Blu-ray will succeed
How to Slow Google: Get Barack Obama to Speak | Peter Kafka | MediaMemo | AllThingsD
Contentinople - Sam Baltrusis - Adap.tv, Eyewonder Join Forces
Contentinople - Sam Baltrusis - Pixsy Launches 'Premium Feed' Video Platform
YouTube Expands Click-to-Buy, Takes Over Your Videos
YouTube Blog
Watch it on YouTube, then Click-to-Buy



January 22, 2009

East Bay Tweetup! larry, andy, michelle, and tim on Flickr - Photo Sharing!Facebook Now Nearly Twice The Size Of MySpace WorldwideTurn Your Blog Into a Widget With Blidget ProMediaPost Publications - VivaKi Takes Plunge, Pools Resources With CBS, Hulu, Microsoft, Others For New Video Ad Format - 01/22/2009Tube Mogul Buys Video Analytics FirmTubeMogul Snaps Up Flash Analytics Firm - MarketingVOXRising Trend of Video Ads for Small Businesses - by on

January 22, 2009

CNN Money has an

interesting article

today about a company in the US producing video adverts for small companies who want exposure on sites like YouTube and anywhere else that accepts video adverts. The cost is quite low at $1000 and the whole advert is shot and produced within a day. Apparently one restaurant received 300 extra customers from the advert in a few months.

With Google pushing video ads via AdWords and the popularity of YouTube at an all time high I wonder how long it takes for agencies in the UK to team up with video production studios to offer online video advertising starter packs?

TurnHere is fast becoming the first choice for local businesses around the country that want to show off their wares in a quick online movie, but have no idea how to make it look professional. Analysts say spending in this niche is set to explode. By producing videos as fast as it can, TurnHere is already cashing in.

"Our market is the 70 million Web pages out there," says Inman, 56. "They can all use video."

Media Center: Boxee Gets Lost and Other ABC.com StreamsNew In Google Talk: Embedded Videos From YouTube And Google VideoEmbed Videos From YouTube In Gmail & Google Talk - ReelSEOMac Trojan Horse OSX.Trojan.iServices.A Found in Pirated Apple iWork 09AT&T dropping unlimited data and messaging to $30 - Engadget MobileNokia E75 QWERTY - High Quality PicturesVerizon Web Phone Targets Home Users
Boxee now lets you get "Lost" in ABC content

iWork '09 already being pirated, downloaders at risk for trojan horse attack : Obsessable Technology NewsPublish Videos to Your Blog From Viddler « Tech Guy and Stuff

January 23, 2009Adobe opens the door to independant online distributionAdobe - Adobe Press Room: For immediate release

Adobe to Open Flash Platform Messaging Protocol


Publishing RTMP Advances Open Screen Project

SAN JOSE, Calif. — Jan. 20, 2009 — Adobe Systems Incorporated (Nasdaq:ADBE) today announced plans to publish the Real-Time Messaging Protocol (RTMP) specification, which is designed for high-performance transmission of audio, video, and data between Adobe® Flash® Platform technologies. Providing developers and companies open and free access to RTMP is the latest advancement of the Open Screen Project, an industry-wide initiative to enable the delivery of rich multi-screen experiences built on a consistent runtime environment for Web browsing and standalone applications across personal computers, mobile devices, and consumer electronics.

The RTMP specification is expected to be posted on the Adobe Developer Connection (www.adobe.com/devnet/rtmp ) in the first half of 2009.

White-Label Video Shops, Compared « NewTeeVeelouisgray.com: Feedscrub: Cleanse The Dirt From Your RSS FeedsMicro Persuasion: Friendfeed is the Next Great Blogging Platform, Here's Why...Google stuff we missed this week | Webware - CNET

Between

its big earnings call

and rolling out a

snazzy New York visitors' center

, Google's been pretty busy this week. Here are five bits of news that slipped through the cracks:

Gmail users can now watch YouTube videos right in Gmail Chat.(Credit: CNET Networks)
Watch YouTube videos in Gmail Chat. Having YouTube video links turn into videos in Google Talk is nothing new, but the feature is now a part of Gmail too. Web users who had lusted over the desktop software's feature are now able to do the same right in the browser. Dropping in any YouTube URL will insert the video into your conversation stream, where it can be viewed by both users, although not at the same time. See our old story about Meebo offering the same thing in its chat rooms back in 2007.
Embedded YouTube videos get high-quality love. Previously, if you had embedded a YouTube video somewhere else, your viewers would have missed out on the option to view it in high quality. Google has quietly added the option to flip it into high-quality mode right from the bottom corner menu. This doesn't come along with an option to view the same video in its high-def glory, but it's a start. (via CrunchGear)
Google's transit site gets a makeover. On Friday, Google rolled out a new version of its transit site that makes it easier to see which parts of the U.S. are Google Transit-capable. Each state now has a little sub-list of regions and the respective transit companies that are a part of Google's index. Missing, however, is the transit layer, which lets you see routes in all forms of transportation at once. Google added this to its Maps product earlier this month, and says it will be a part of the transit site soon.
FeedBurner experiences hiccups in service. Earlier this week, RSS management service FeedBurner began to experience problems with its aggregation tools, resulting in the number of reported reader subscriptions fluctuating wildly. FeedBurner co-founder Dick Costolo says that there's nothing to worry about and that the hiccups have been related to FeedBurner moving users over to the newer, updated architecture. Costolo also said that the actual reader subscriptions have remained intact.
The Vatican goes Web 2.0. On Friday, YouTube announced that the Vatican joined up as a content partner. There's now a dedicated content channel with a dozen videos--mostly of the Pope. In an introductory video, Father Federico Lombardi, the director of the Vatican press office, said the move was the Vatican's way of being a part of the "global arena." The only problem with that statement is that the Vatican has disabled embedding, requiring users to watch all the videos on YouTube's site only.
Erick Schonfeld /
TechCrunch
:
YouTube officially enables HQ in embedded videos
Monty Python Embrace YouTube And Benefit Greatly | Click-To-Buy Does Work After All
How To Market A Film DVD Online: Free Or Paid Release? - Robin Good's Latest News
Retromodo: The First Ever Apple Computer Running Windows
Does Hollywood Get Social Media?
January 24, 2009
Revision3's Louderback: Shakeout Coming; Focus on 'Going Deep on an Audience' | Online Video Watch
Beet.TV: Small Businesses to Spend $1.5 Billion on Web Video and TurnHere Has a Plan, Fortune
While media companies large and small are figuring out how to monetize Web video with advertising, the demand for businesses and institutions to have video on their web sites, or as part of their marketing mix, is exploding. According to the Kelsey Group, an advertising research firm, small businesses will spend $1.5 billion in Web video advertising in 2012.
According to a story in Fortune by Evelyn Nussenbaum, TurnHere, a Bay Area start-up, is well positioned to capitalize on this trend. Internet analyst Greg Sterling tells Fortune he sees TurnHere becoming an advertising network which "someone is going to want to buy."
The company has raised $7.5 million in venture funding from Venrock and Hearst. Founder Brad Inman tells Fortune that the company is producing 1000 videos per month and has become profitable. I have republished an interview I did with Brad last February in our Manhattan studios. - Andy Plesser
YouTube Users Lash Out At Warner Music (And Google) With Protest Videos
Twitter Raising New Cash At $250 Million Valuation (Michael Arrington/TechCrunch)