It was an incredibly busy week back to the grind on week one of 2009 but I found time to go to
Macworld
possibly for the last time. I couldn't make it on Tuesday which seemed like the best day to go and went on Thursday instead. I had heard all the announcements throughout the week and tracked the Tuesday keynote in real-time on
Venturebeat's Friendfeed Room
. While the 2010 Macworld Expo is already scheduled there's been speculation that it's days are numbered. How can you have a celebration without the guest of honor?
I've attended Macworld since the early 90's and this one in particular was the most underwhelming. While I joked and said that it should be renamed "iPhone Accessoryworld, there were a number of news items worth noting which I've collected a small sampling in this weekly review from week one of 2009.
For the first time in a decade, I'm getting to spend the holiday season with my family, rather than intensely preparing for a Macworld keynote. — Unfortunately, my decision to have Phil deliver the Macworld keynote set off another flurry of rumors about my health …
Steve Jobs announced today that he has been losing weight throughout the past year because of a hormone imbalance that has been robbing his body of proteins. He said sophisticated blood tests have confirmed this diagnosis and the remedy is a relatively simple treatment. He said his doctors expect it will take until this spring to regain his usual body weight. " I will continue as Apple's CEO during my recovery," he wrote in a letter addressed to the Apple community.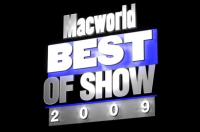 Macworld Best of Show Awards 2009 - Mac Rumors
- WebEx for iPhone - free application allows iPhone users to participate in Cisco WebEx virtual meetings
- DayliteTouch - allows two-way syncing of appointments, calendars, tasks, notes, and projects
- Filemaker Pro 10 - industry-standard database application gains a fresh interface and new scripting tools
- HP MediaSmart Server EX485 - PC home server developed for multi-platform households can serve as a Time Machine backup and iTunes server
- Things - task-management application for the Mac provides intuitive organization and ability to sync with its iPhone counterpart application
- Pulse SmartPen - records audio and links the audio to what you write
- Sling Media - Slingbox PRO-HD and Sling.com live TV streaming gain Mac compatibility, and SlingPlayer Mobile for iPhone and iPod touch due in March will allow users to watch their cable box and DVR media on the go
- iPhoto '09 - addition of Places and Faces features for organization, facial recognition software, and Facebook/Flickr integration
- Ecamm BT-1 - wireless webcam communicates via Bluetooth, streams video and audio, and is tripod-mountable
2009 MacWorld Keynote Fails To Meet Reduced Expectations » Webomatica - Technology and Entertainment Digest
In the history of MacWorld keynotes, I've tried to be conservative when it came to expectations, dialing them back several levels to avoid disappointment. Well, that strategy didn't work this time.

I felt my list of predictions set the bar so low even a Dell executive could have walked over them. Still, Apple struggled to clear it:



1. New Mac Mini: Better processors, graphics card, new form factor. (no)
2. New iMacs: Better processors, graphics card, yada yada. (no)
3. 17 inch MacBook Pro: The non-removeable battery rumor makes sense based on other products, most obviously the MacBook Air. Expect a slide with some stats about how little users actually remove their laptop batteries. That said, I still think it's a bad idea. (yes)
4. iLife 09: Addition of some online features. (yes)
5. New Apple TV: Apple's overdue to do something with this product, with added pressure from Netflix and Boxee. There may be some tweaks to the rental window and the addition of new services - Hulu would be a no-brainer. At most ambitious, I could see combining the Mac Mini and Apple TV into one product, but I'll put that prediction as unlikely. (no)


6. Snow Leopard: More details and demos of this OS with a big emphasis on speed. (no)