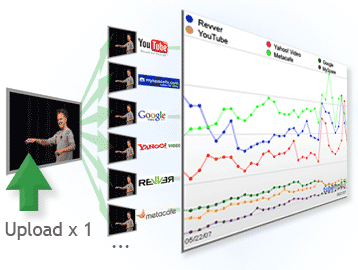 Hosting your videos on a free, video sharing website such as YouTube, Blip.tv, Vimeo, Dailymotion or even on a social networking site such as Facebook has many advantages for reach, higher visibility on search engine results (SEO) and of course, the fact that's it's free all the content delivery costs are paid for by the sharing site. This option for video hosting is one of three that Jan Ozer recently wrote about in his indepth article,
Choosing an Online Video Platform
. He referred to free video sharing sites as UGC sites and pointed out several pros and cons saying, "These UGC sites relieve you of the encoding and player-creation chores and assume the task of hosting and distributing the video for you. You can still embed the video on your own website, but by offering your video on a UGC site, you also expand the number of potential viewers, which can help from a marketing perspective. However, there are some negatives to consider, as well as some benefits..." (
more
)
For those interested in the "hyper-syndication" model of distributing your video to multiple video sharing sites there are a number of free and premium choices which are covered in two recent articles.
My friends at
ReelSEO
published this review,
Upload Videos To Multiple Video-Sharing Sites - Tools & Software
and highlighted the following services with short descriptions and pricing:
If you want to dig deeper you can also check out Best Tools To Upload Your Video To Multiple Video-Sharing Sites - Mini-Guide on

MasterNewMedia

with mini-reviews and a comparative table of 11 tools to automatically upload your clips to multiple video sharing sites.
Written by Robin Good, the guide used the following criteria to compare the services:
Distribution: Video-sharing sites where you can automatically upload your content

Analytics: Viewership information gathered from supported video-sharing sites

Upload: Publish to video-sharing sites accepting videos bigger than 300MB

Premium: Price and extra features of premium accounts for supported video-sharing sites

Migration: Export of your content from one video-sharing site to another site without download
Robin included this interactive map with links to all the services in the Mini-Guide. Full descriptions and comparative details on capabilities and cost are

here.



The only service I use
to distribute my videos to multiple sharing sites is
TubeMogul. You can read more about their new TubeMogul 2.0
capabilities
which "democratizes video metrics"
here
. I haven't tried any of the other services but would be interested to hear from anyone who has.
A few other options that came up in the comments on these two articles worth checking out are:
Related: