I'm pleased to announce the web television panel session that I'm programming for Streaming Media West that will be on November 17 at 11:30 am in San Jose, California. While so much focus in blogosphere is on video platforms and the technology and business that powers the industry, it really comes down to telling a good story with compelling content that attracts an audience and creates a dialogue and conversation. There are many success stories in the independent film and video space and the explosive growth of online video producers and viewers has given rise to web television.
The first annual
Streamy Awards
was a watershed event that shined a spotlight on a new breed of independent producers who have found some success in producing low-budget web television series based on their own unique vision. But in our current economic downturn some web television studios have been forced to close, and the reality is that it's still difficult for web series to gain the reach and sponsorship, and many are still trying to find the right business model.
That was my vision for this session, which I think captures the essence of where we're at right now in the coming age of web television. A big thanks to Dan Rayburn, Streaming Media West Conference Chair, for finding a place on the schedule for this session and my thanks to Marc Hustvedt, Co-Founder, Tubefilter & Editor-in-Chief, Tubefilter News, for taking on the role of moderator and to our great panel of speakers.
Web Television Comes of Age
Track B: (B102) Tuesday, November 17, 2009 11:30 AM - 12:30 PM
Original episodic web television has grown up in a short time and is now recognized as a respected and legitimate entertainment platform. But in our current economic downturn some web television studios have been forced to close and the reality is that it's still really difficult to create a sustainable business model. Some creators say that until the web can provide the reach and a real source of revenue for independent producers, there's no way it will ever truly become the future of TV. In this session, hear from some of the producers in this growing space on what it takes to create, market and sell a web television series as we debate the future success of web television.
Moderator
:
Marc Hustvedt, Co-Founder, Tubefilter & Editor-in-Chief, Tubefilter News
Marc is a co-founder of
Tubefilter
, Inc. Los Angeles-based web television company and the Editor-in-Chief of
Tubefilter News
, the leading authority in episodic web television and web series. He is a veteran entrepreneur, investor, writer, speaker and web TV producer. He is founder of the
International Academy of Web Television
and Executive Producer of
The Streamy Awards
. He's crazy about web series, web television and the revolution in digital entertainment and thinks it just getting started. Tubefilter's mission to grow the audience of web television. Tubefilter News helps you discover and keep track of the stories you care about.
Speakers
:
Zadi Diaz, Creative Director, Co-Founder, Smashface Productions
Zadi Diaz is a new media producer and co-founder of
Smashface Productions
, a new media production company focused on developing original programming for the web, bridging new and traditional media, and building and cultivating online communities. She is currently the co-creator and host of
EPIC FU
, a popular Streamy and Webby
award-winning web series
about internet culture, as well as co-founder of
Pixelodeon
, a screening festival recognizing innovation in global online video.
Though filming, writing, and directing are Zadi's main focus, she also speaks on panels and teaches people around the world about social movement media and media literacy. Her work has been highlighted in the New York Times, Forbes, CBS Evening News, MTV, The Associated Press, The Guardian, and many other national publications. She is a Film Independent Project:Involve Fellow, a member of the International Academy of Digital Arts and Sciences (IADAS), on the advisory board for PBS Engage, as well as a member of the Transatlantic Network 2020, an international initiative founded by the British Council.
Brent Friedman, Co-Founder and
President
, Electric Farm Entertainment
Brent V. Friedman is a founding partner in
Electric Farm Entertainment
, a leading digital media company specializing in science fiction. Brent created, wrote and produced EFE's first two groundbreaking webseries,
Afterwold
and
Gemini Division
, distributed by Sony and NBC respectively. Brent is presently serving as Executive Producer on EFE's next webseries,
Woke Up Dead
, done in conjunction with Sony. He is also the Co-Creator and Exec Producer of
Valemont
, EFE's collaboration with MTV. Upcoming is
Prophet
, another webseries Brent created and will produce for Disney.
At EFE, Brent works on the bleeding edge of online storytelling. Producing high-end webseries that are distributed globally on all three platforms: broadcast, broadband and mobile. These unique "entertainment experiences" offer audience full immersion and interactivity. Additionally, EFE partners with major brands such as Cisco, Microsoft, Intel, Kodak and Verizon to integrate their products and services into the content and into the narrative itself. The result is a dynamic new form of branded entertainment with an innovative, lucrative business model. He got his degree in Creative Writing from UCLA and currently resides in Washington.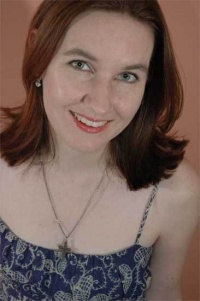 Jenni Powell, New Media Consultant

Jenni has been deeply involved in innovative online communities for several years, dating back to the cult internet series Nobody's Watching (over 40M views) and later becoming a central figure in the web video breakout lonelygirl15 fan community. This led to her creating the fan-favorite parody series LonelyJew15 which landed her a job at lonelygirl15's production company EQAL. She has a strong background in production working for Upright Citizen's Brigade (UCB), A&E's Deadliest Catch, and Lifetime's Lisa Williams Life Among The Dead.

Online, Jenni has worked on many popular web series such as the smash Microsoft-sponsored hit The Guild, Streamy Award-nominated With the Angels, Poor Paul, The Crew and Comedy Central's Atom.com standout The Legend of Neil. She freelance writes for popular web entertainment site Tubefilter News and consults on and produces various transmedia entertainment projects around Web
Thom Woodley, Partner, Chief Creative Officer, Dinosaur Diorama
Thom Woodley
is a writer, musician and web video pioneer based in Brooklyn, New York. He's creator and producer of web video series
The Burg
,
The All-For-Nots
and
All's Faire
. Ten of his scripts have been staged in New York, Boston, and Pennsylvania and two have been optioned. His short film
Go for the Gold!
was independently released to regional festivals in 2004.
He is also a member of the bands Infidels and [bert], which have toured the United States and released four CDs, and the comedy music duo Dawghaus, who have performed at numerous comedy festivals around New York City and released sketch videos. Temp of the Year, 2001. Thom is also a copywriter at Euro RSCG New York, specializing in digital advertising and branded content.
About Streaming Media West
Attended by more than 2,500 executives last year, Streaming Media West is the only show that covers both the business of online video and the technology of streaming, downloading, Webcasting, Internet TV, IPTV, and mobile video. Covering both corporate and consumer business, technology, and content issues in the enterprise, advertising, media and entertainment, broadcast, and education markets,
Streaming Media West is about more than just streaming!
Streaming Media West 2009 combines cutting-edge exhibitors and intensive conference sessions with more than 100 speakers, giving you the chance to hear and see the best and the brightest minds in the online video industry—at the podium, in the Exhibit Hall, and among the attendees.
We look forward to seeing you at the show!