As I mentioned in my
last post
, I participated in three separate
My ooVoo Day With... Political Edition
videoconferences last Sunday. For my second session I found myself back at the Starbucks in San Francisco using the T-Mobile Wifi and my trusty Macbook. I didn't mentioned earlier that I actually don't live in San Francisco but I was there early Sunday morning because my son and his band,
Shatterfish
, were playing at the
San Francisco Marathon
(view their
Qik video here
) and I was roadie, tour manager, tech support, driver and video broadcaster. But I found a local wireless hotspot close to where they were playing and was able to join the previous session with
Matt Parker
and this one hosted Eileen Smith and Mike Chapman. Also joining the conversation was
Digitalsista
Shireen Mitchell, founder and Executive Director of
Digital Sisters/Sistas, Inc
and author of the blog
Women Wired In
. Phillip Robertson from
ooVoo
joined briefly to assist with connectivity issues.
"Eileen Smith is the editor of
texasmonthly.com
and also the editor of a satirical political blog named
In the Pink Texas
."
In the Pink Texas says,
"She has an affinity for pinot and an irrational fear of breeders, orphans, Catholic nuns, sobriety, lactivists, miniskirts and speaking on panels. She tries to respond to all comments, especially the ones that refer to her as a sociopath."
Needless to day she offered great conversation and insights on the 2008 Presidential Campaign. On her blog, Eileen had
this to say
about participating on the ooVoo panel,
"When my blog friend and yours, The Other Guy, started telling me about some new, exciting platform for online communications and digital media, I quickly said "unsubscribe" and hung up the phone. But then he told me it had something to do with a live video chat and I'm like, sign me up. Who am I to pass up yet another opportunity to embarrass myself and the entire staff of Texas Monthly?"
Joining Eileen as co-host was Mike Chapman who
"has over two decades of experience in public relations and public affairs. Joining the Capitol Hill staff of Congressman J.J. "Jake" Pickle after college, he was mentored by one of the nation's most successful statesmen... He is a founding member of the Austin Social Media Club, the international Social Media Club, and a number of organizations with interests in online communications strategies and technologies."
On his blog
Every Dot Connects
, Mike wrote about the upcoming
My ooVoo Day In The Pink
by saying.
"The Pink Lady and I don't always agree and when we don't, she's always right. Well, except on a few issues and I won't mention what they are... Here's a hint, I supported Barack Obama and she still wants Hillary to take it to the convention. Other than that, we agree on everything. Politics can get really boring for normal people. Eileen gets that and makes the issues of the day fun. She isn't Jon Stewart or Stephen Colbert…she's better. Recently, she posted about our upcoming panel, which just happens to be on Obama's birthday (I thought you'd like that Eileen) and, once again, she cracked me up."
Once we all got connected, Mike started by talking about the power of the social media world and political activism. Instead of just telling our friends we can now tell the word through our blogs and that things news reporters wouldn't write about bloggers and commenters would. He went to
Netroots Nation
and said they were a very fervent group. Eileen added that there was no middle ground in Netroots Nation. Shireen said she went to
Blogher
and that Netroots has the view of being extermists but you also get a sense that they are bringing up things that people don't want to touch.
I admitted that I felt out of touch with the issues and that it had been several months since I sat down and read the paper. Most of time is spent in the tech blogosphere but joining these conversations helped me connect back to the political dialogue. We all agreed that the media distracts and that with the overall media coverage the extremes get media attention. Eileen pointed out that nobody is talking a economic plan.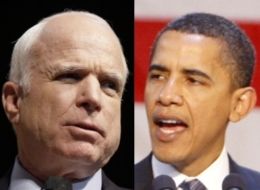 We went on to talk about the Presidential campaign strategies. Mike thought that Obama is taking a risk by not committing to specifics and waiting for opponent to make a mistake. Reagan was the best at this. Not saying anything and looking presidential. Clinton tried but was not as successful. Shireen also thought that it's dangerous too and when you use surrogates you get caught in a bind. You're guilty by association and the media pounces on you. Which is what happened to Obama earlier in his campaign when sermons by his longtime Chicago pastor, Jeremiah Wright produced an explosion of controversy. (
More on Huffington Post...
)
Eileen said that candidates don't really control their campaigns anymore and the media is looking for candidates to slip up. Every politician need to be aware of the viral quality of negative stories and get into talking about real policies. They're trying to use old school public relations messaging but we're not putting up with it anymore. It will be history making on who handles it best.
Overall, it was a great conversation that ended too soon. I had to leave early to pick up my son and his band mates since the SF Marathon finished up early. Eileen and Mike had one more ooVoo chat scheduled the next day and I had one more myself later in the day with
Queen of Spain
. More on that in my next post.