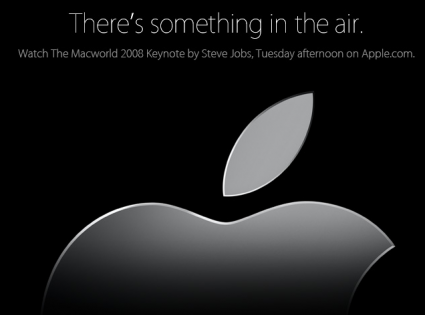 With only about 7 hours left before Steve Jobs takes the stage at the
Macworld Expo
... what will he announce?
Last year was the long anticipated and popular iPhone and now that Apple announces new products all year round, what is saving for his keynote?
What's the big news?
What's in the air?
Wired
and
MacRumors.com
both seem to think it's going to be a new ultra-thin cable-free laptop called the Macbook Air.
Here's a few artist renderings created by the
Gadget Lab
at Wired.com
The
Wired post
says, "An Apple insider told Wired today that the company's new ultraportable, expected to be seen in public for the first time tomorrow, has an extremely thin profile and is shaped like a teardrop when closed — thicker at the top behind the screen, tapering at the bottom behind the keyboard... Sadly, we don't have details on pricing, specs or availability.
Expect reality to disagree with our photoshops.
"
There's also been talk of a Mac tablet, a newer iPhone and iPod with Slingplayer, an iPhone SDK, Blu-Ray support in new Apple machines, and of course a big iTunes announcement. But we'll have to wait to hear it from the real Steve Jobs.